Large Infrastructure Projects in the Amazon: Corruption and Socio-Environmental Impacts
Description
In recent decades, major Infrastructure projects in the Amazon, home to the world's largest tropical forest, have been associated with cases of systemic corruption and serious socio-environmental impacts.
Some of these cases relate to the largest and most controversial projects carried out in the country, such as the Belo Monte, Jirau and Santo Antônio Hydroelectric Power Plants, the Urucu-Coari-Manaus gas pipeline and the Rio Negro bridge, or even to projects located in other countries in the region but built by Brazilian companies, such as the Peruvian sections of the Pacific Highway.
The effects of corruption on large infrastructure projects are particularly worrying. Practices such as payment of bribes, illegal campaign financing and diversion of public resources distort decision-making processes, increase costs and facilitate state capture by public and private agents. At the socio-environmental level, corruption increases pressure upon the decision to undertake a certain project - despite its risks and impacts - enabling interference in environmental licensing aggravating direct and indirect impacts (including those suffered by indigenous peoples, traditional communities and other affected groups) and generating problems in managing resources destined for both impact mitigation and compensation.

Access the full report (in Portuguese): https://amazoniasemcorrupcao.org.br/

Authors
Transparency-International Brazil and WWF-Brazil
Date
03/05/2021
Tags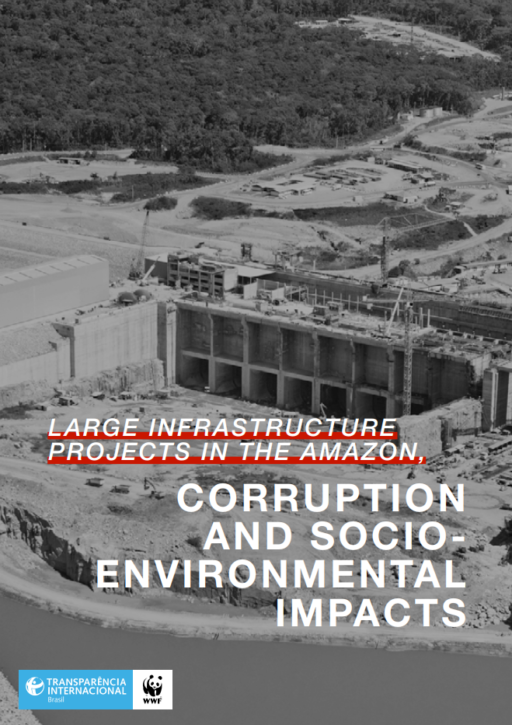 Download PDF
Additional Downloads
Wwf E Ti Grandes Obras Na Amazônia Corrupção E Impactos Socioambientais
Experts working on this topic
Francesco Clementucci
Susan Rose Ackerman
Elda Fim
Related research
Transparency and accountability in Lebanon's emerging petroleum sector
Denmark: Overview of Corruption and Anti-Corruption
Corruption, auditing and carbon emission reduction schemes
Corruption risks in tax administration: Liberia case study
Overview of corruption and anti-corruption efforts in Mexico