Interagency coordination mechanisms: improving the effectiveness of national anti-corruption efforts

This Anti-Corruption Helpdesk brief was produced in response to a query from one of Transparency International's national chapters. The Anti-Corruption Helpdesk is operated by Transparency International and funded by the European Union. 
Query
Please provide examples of countries that have adopted formal coordinating or cooperative mechanisms for their integrity agencies, which cover (but are not necessarily limited to) the field of anti-corruption. 
Such coordination activities would include, but not be limited to, law enforcement agencies, parliamentary standards authorities, national audit office, ombudsman and so on.
Summary
Attention to the issue of "joined up", cross-government approaches to public policy has been steadily growing in recent years. In the anti-corruption field, the problem of coordination is particularly acute, as sophisticated forms of corruption demand a combination of law enforcement, regulatory, civil and administrative responses. Unfortunately, coordination between integrity agencies is often plagued by structural and resourcing constraints, bureaucratic pathologies and political interference. There is also an underlying tension in that, while integrity systems rely on close cooperation between different agencies to function effectively, there is also a need for these same agencies to act as checks and balances on each other. 
Different institutional frameworks have been proposed as more or less conducive to fostering coordination between integrity agencies, but it appears that the quality of relationships between agencies is a better proxy for the overall success of a given integrity system than the institutional model itself.
While there is no clear blueprint for effective coordination mechanisms, this Helpdesk answer studies a number of channels that can be used to encourage both formal and informal coordination between integrity agencies. Such measures range from the development of national anti-corruption strategies to the formation of policy coordination units and secondment between different bodies. It finds that coordination mechanisms can be usefully classified according to whether they are designed to promote coordination at the strategic, policy or operational level. 
The paper concludes by studying coordination measures in seven countries: Argentina, Brazil, Mexico, South Africa, Switzerland, the United Kingdom and the United States.

Contents
The need for coordination
The challenge of coordination
Institutional frameworks for integrity systems
Types of coordination mechanisms
Coordination models at strategic, policy and operational levels
Country examples
References
Caveat
Coordination on anti-corruption can be conceived of as taking place on four broad planes. First, coordination between integrity agencies within in a given country. Second, coordination between governmental and non-governmental actors in a given country – notably civil society and the private sector – in support of preventive and educative measures. Third, coordination between integrity agencies situated in different countries for the purpose of pursuing corruption cases involving multiple jurisdictions. Finally, participation in broader international networks and fora, such as the Open Government Partnership, the Extractive Industries Transparency Initiative, the UNCAC Coalition, the Global Forum on Transparency and Exchange of Information for Tax Purposes, the OECD Working Group on Bribery, the G20 Anti-Corruption Working Group and so on.
This answer restricts itself to a study of the first of these planes, considering solely intra-governmental coordination.
Authors
Matthew Jenkins, [email protected]

Reviewer:
Marie Chêne
Date
30/01/2019
Tags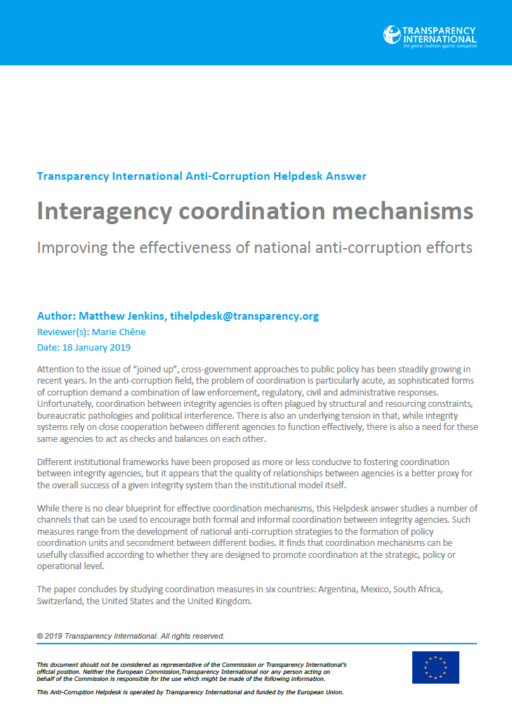 Download PDF
Experts working on this topic
Shqipe Neziri Vela
Gedion Onyango
Robert Hanlon
Related by Country
International support to anti-money laundering and asset recovery: success stories
Best practices in tax amnesty and asset repatriation programmes
Models of donor coordination for managing multi-donor inputs
Related by Topic
Prevenir la corruption dans la gestion des finances publiques en Afrique francophone de l`Ouest
ANÁLISIS DE LA CORRUPCIÓN Y LA LUCHA CONTRA ESTE FENÓMENO EN PARAGUAY
Transparency of State-owned enterprises